Notice anything different about my blog? Like it looks 20 years younger and [whisper-voice] maybe got Botox?
If you are on a RSS feed, I would love it if you
clicked over
to take a look.
I'm so excited to officially unveil my new blog design created by my talented e-friend Stephanie of
Stephanie G designs.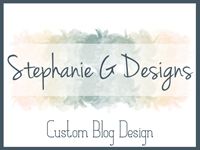 I have honestly had this on my to-do list for two years, but I finally committed to doing it a month ago and I'm so happy I prioritized it. I'm feeling inspired to spend more time blogging and writing.
I love it, love it, love it. I had some specific ideas about what I wanted, but wasn't sure how to execute them. Stephanie walked me through the design process - which was very fun - and she was so helpful in making my vision come to life. I cannot recommend her highly enough and she is very affordable and flexible in the packages she offers. If you are looking for a change on your own blog, she is offering my readers $10 off any blog design package until the end of October - just mention my name or blog when ordering.
* * * * *
I also wanted to take a minute to say THANK YOU to those who visit and especially to my commenters. Getting comments and emails are such a bright spot in my day and I cannot emphasize enough how much I appreciate that. And don't feel weird or creepy about commenting - I swear it's very normal and okay to comment on random blogs.
As a little token of my appreciation, I'm giving one reader a $10 Starbucks gift card AND a $10 Target gift card so you can take yourself on a date. Or if you are international we can figure out a $20 gift card for something near you! Or if you would prefer to have $20 at J Crew or a restaurant or whatever...honestly, it's completely up to you. I just want to make someone happy.
To enter: Leave a comment telling me something about yourself - it could be anything, you all know I love me some randomness. Make sure to leave contact info if you don't have a profile or blog. Giveaway will close on Wednesday, October 24 at midnight CST.
XOXO,
The Mothership